VMware this week announced that its latest VMware Fusion update brings Windows 11 support to both Intel and Apple silicon Macs. Available as a free tech preview, the 2H22 version of Fusion will finally allow Apple silicon Mac users to download and use Windows on their machines through virtualization.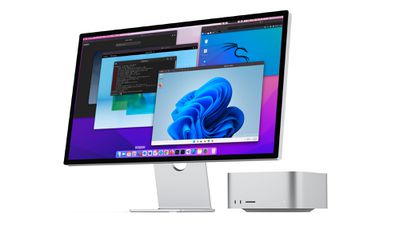 Features include Windows 11 support with 2D GFX and networking, VMtools installation for Windows on Apple silicon machines, improved Linux support on Apple silicon machines, and more.
Windows 11 on Intel and Apple Silicon with 2D GFX and Networking
VMtools installation for Windows 11 GOS on M1
Improved Linux support on ‌M1‌
3D Graphics HW Acceleration and OpenGL 4.3 in Linux VMs* (Requires Linux 5.19+ & Mesa 22.1.3+)
Virtual TPM Device
Fast Encryption
Universal Binary
While the new functionality was designed with Windows 11 in mind, VMware says the tools can be used with other VMs too. At the current time, Fusion on Apple silicon devices is "still a work in progress" and there are some limitations to be aware of.
Fusion will not support running VMs across different architectures. (Ie no x86_64 VMs on ‌M1‌ Macs).
macOS virtual machines are out of scope for this release, but it's something we're looking into.
Ubuntu 20.04.4 and 22.04 for arm64 are not currently booting (Ubuntu 20.04.4 builds from July 5 and onward) We are working to resolve this.
VMware says that it is looking for feedback from users in order to iron out kinks and add new capabilities in preparation for more formal support later this year. While in the testing period, VMware Fusion will be free to use. The VMware Fusion Tech Preview can be downloaded from the VMware website.
Related Stories
VMware Fusion for M1 Macs Now Available as Private Tech Preview
VMware Fusion is now available as a private tech preview for M1 Macs, with users able to request access through an online form. A public tech preview will follow in around two weeks, according to a tweet from VMware Fusion manager Michael Roy. VMware Fusion for M1 Macs will be quite limited in scope, with a focus on virtualizing Arm-based Linux distributions. VMware Fusion will not…
Discord With Native Apple Silicon Support Now Rolling Out
A version of Discord with native support for Apple silicon Macs is now rolling out to users, almost a year and a half after the first Macs with Apple silicon chips were shipped to customers. Until now, Discord users have had to rely on Rosetta 2 technology to use Discord on Apple's latest Macs. While usable, Discord on Rosetta 2, which translates apps made for Intel-based Macs to run on…
Machine Learning Framework PyTorch Enabling GPU-Accelerated Training on Apple Silicon Macs
In collaboration with the Metal engineering team at Apple, PyTorch today announced that its open source machine learning framework will soon support GPU-accelerated model training on Apple silicon Macs powered by M1, M1 Pro, M1 Max, or M1 Ultra chips. Until now, PyTorch training on the Mac only leveraged the CPU, but an upcoming version will allow developers and researchers to take advantage …
Here Are All the macOS Ventura Features Your Intel Mac Won't Support
Apple's public release of macOS Ventura is expected sometime in October, but given the number of features in macOS Monterey that were limited to Apple silicon Macs, will Intel Mac owners again feel left out in the cold this fall? Fortunately, it doesn't look like that will be the case this time round, with many of the major features in macOS 13 offering full functionality on both Intel and…
Microsoft Says ARM Windows Virtualization on Apple Silicon Macs 'Not a Supported Scenario'
Macs powered by ‌Apple silicon will not support Windows and there is no Boot Camp feature like there is on Intel Macs, but support for Windows is a feature that many users would like to see. However, Microsoft has dampened hopes that Windows will ever work on Apple silicon, saying that running an Arm version of Windows 11 on M1 Macs, via virtualization or otherwise, is not "a supported…
Dropbox Finally Begins Testing Mac App With Native Apple Silicon Support
Dropbox has finally begun testing a native version of its Mac app with Apple silicon support, following widespread criticism from customers and users who initially thought it had no plans to take advantage of the latest Macs powered by Apple's custom processors. In October, official responses to comments on the Dropbox forums suggested Dropbox had no plans to add support for Apple silicon…
Beta Version of Plex Media Server With Native Apple Silicon Support Now Available
Popular media platform Plex today announced the launch of a beta version of the Plex Media Server that has native Apple silicon support. The new version of the Plex Media Server uses the "Universal" build for Macs, which means it is compatible with Apple silicon and Intel Macs. At the current time, the release version of the Plex Media Server runs using Rosetta 2. Since the introduction of…
WhatsApp Testing Mac App With Native Apple Silicon Support
WhatsApp is developing an updated Mac app that features native Apple silicon support, with the company today providing a TestFlight beta to allow some Mac users to try out the new version of the app. Apple silicon Macs have been able to use the Electron-based Intel version of WhatsApp for Mac since 2020 thanks to Rosetta 2, but there has been no native version available. An Apple silicon…
Popular Stories
Apple Seeds Second Public Betas of iOS 16 and iPadOS 16
Apple today seeded the second betas of iOS 16 and iPadOS 16 to public beta testers, opening up the iOS 16 beta testing process to the general public. Today's beta comes a little over two weeks after the first public beta, and it corresponds with the fourth developer beta. Public beta testers who have signed up for Apple's free beta testing program can download the second iOS 16 and iPadOS 16 …
Everything New in iOS 16 Beta 4 For Lock Screen, iMessage, CarPlay, and More
Apple today seeded the fourth beta of iOS 16 to developers for testing. The latest beta contains a handful of new features and changes involving the Messages app, Home app, Mail app, Lock Screen notifications, CarPlay, and more. Subscribe to MacRumors on YouTube iOS 16 is currently in beta for developers and members of Apple's free public beta testing program, and the software update will be…
Five Apple Products Rumored to Switch to USB-C
While the iPhone still uses the Lightning connector for now, Apple has been transitioning many of its devices to USB-C in recent years. Apple now offers USB-C ports on every Mac that it currently sells, ranging from the MacBook Air to the Mac Pro. Other devices with a USB-C port include the 2018 and newer iPad Pro, 2020 and newer iPad Air, sixth-generation iPad mini, Studio Display, and Pro…
Budget Smartphone Comparison: Google's $449 Pixel 6a vs. Apple's $429 iPhone SE
Google last week launched the Pixel 6a, a $449 budget smartphone that's designed to compete with more affordable smartphones like Apple's iPhone SE. We picked up a Pixel 6a to see how it measures up to the iPhone SE in terms of design, performance, and camera technology. Subscribe to the MacRumors YouTube channel for more videos. The Pixel 6a has a 6.1-inch 1080p OLED display, which means…
Apple Seeds Fourth Betas of iOS 16 and iPadOS 16 to Developers
Apple today seeded the fourth betas of upcoming iOS 16 and iPadOS 16 updates to developers for testing purposes, with the updates coming three weeks after Apple released the third developer betas. Registered developers can download the iOS and iPadOS 16 profiles from the Apple Developer Center, and once installed, the betas will be available over the air. iOS 16 introduces a revamped Lock …
Titanium Apple Watch 'Pro' Could Signal the End of Apple Watch Edition
The larger Apple Watch Series 8 model expected to arrive later this year is rumored to feature a titanium casing, raising questions about the future of the Apple Watch Edition. Yesterday, Bloomberg's Mark Gurman reported that the new, larger Apple Watch model scheduled to launch this year will feature a casing made of "a more durable formulation of titanium to make it extra rugged." Apple…
Wait for iOS 16 Beta 4 Now the Longest Since iOS 6
iOS 16 beta testers have now waited longer for the fourth developer beta version than any new full iOS release since iOS 6 and iOS 7. The minor landmark, highlighted on Reddit, was hit when Apple did not release the fourth beta version of iOS 16 yesterday . In 2012 and 2013, both iOS 6 and iOS 7's betas were in their third version for 21 days, the same as iOS 16's third developer beta as of…
.